Crew - Pale Ale
Obergäriges Bier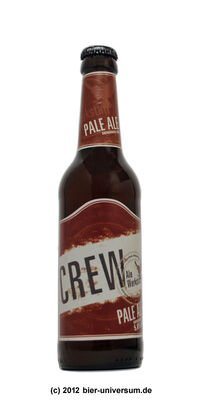 Ratings: 3.5 of 5. 4 vote(s).
Click on the pitchers to rate this beer.
Description according to label:
Nicht konventionell, sondern neuartig und originell. Crew Pale Ale ist kein gewöhnliches Bier. Kein Pils, kein Weizen, kein helles. Ein spezielles Brauverfahren und dreimal mehr Hopfen als in einem Pils verleihen diesem Bier seinen markanten und vollen Geschmack.

Crew Republic-Biere können über einen Shop auf der Hersteller-Webseite bestellt werden.
---
Labels:
Crew
---
Beertypes:
Pale Ale
Alcohollevel:
5.6 %
Bottlevolume:
0.33 Liter
Bottletypes:
Mehrwegflasche (Glas)
Puritylaw:
Gebraut nach dem Deutschen Reinheitsgebot
---
Ingredients:
Wasser, Gerstenmalz, Weizenmalz, Hopfen, Hefe
---
Brauerei
Crew Rebublic Brewery GmbH
Andreas-Danzer-Weg 30
85716 Unterschleißheim
Bayern
Deutschland
Oberbayern
www.crewrepublic.de
---
Pubs and restaurants serving this beer:
---
Beverage markets: