Salzburger Stiegl - Hausbier Wildshuter Sortenspiel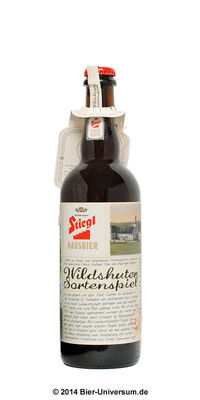 Ratings: 0.0 of 5.
Click on the pitchers to rate this beer.
Description according to label:
Preisgekrönter Geschmack aus Wildshut. Die Kraft der Wildshuter-Urgetreide wird beim renommiertesten, weltweiten Bierwettbewerb, dem World Beer Cup, mit dem 2. Platz ausgezeichnet.

Im Stiegl-Gut Wildshut vereinen sich landwirtschaftliche landwirtschaftliche Erzeugung, die Lebensmittelproduktion und die Lebensmittelveredelung. Das Stiegl-Gut Wildshut ist das Gegenteil von industrieller Massenproduktion und bildet das Kompetenzzentrum für alle Rohstoffe rund ums Bier.

Perfekt zu Creme- und Schaumsuppen, Gemüsegerichten, gebratenem Fisch, gedünstetem Fleisch, Geflügel, Käse und fruchtigen Desserts.

Wildshuter Sortenspiel: Das Spiel begann vor über 1.000 Jahren im Salzachtal in der Gemeinde St. Pantaleon am verträumten Gut Wildshut, wo bis heute Landwirtschaft betrieben und seit ungefähr 350 Jahren wie wild Bier gebraut wird. Als wir bei Stiegl 1917 den Gutshof übernahmen, wurden die Karten neu gemischt. Denn heute dient Wildshut als ausgangspunkt für ein einzigartiges Bio-Landwirtschafts-Projekt. Da wir sehr gerne nach unseren eigenen Regeln spielen, kümmern wir uns in Wildshut ganz alleine um das gesamte "Dreieck" von Anbau, Veredelung und Verarbeitung. Wir ernten verschiedenste Urgetreide wie Dinkel, Schwarzen Hafer, Emmer und Einkorn selbst, veredeln sie in unserer Mälzerei und brauen daraus ein beeindruckend vollmundiges Bier. Das Wildshuter Sortenspiel verdankt seinen Namen nicht umsonst dem Herkunftsort seiner Zutaten. Mit seiner blumigen Note wird es zu einem Gewinn für jeden Bierliebhaber. Gebraut in der Stiegl-Hausbrauerei..
---
Labels:
Salzburger Stiegl
---
Beertypes:
Spezialbier
Alcohollevel:
5.0 %
Originalwort:
12°
Bottlevolume:
0.75 Liter
Bottletypes:
Glasflasche
---
Ingredients:
Wasser, Bio-Gerstenmalz, Bio-Dinkel, Emmermalz, Bio-Schwarzer Hafer, Bio-Hopfen
---
Awards:
Silver Award beim World Beer Cup 2014
---
Brauerei
Stieglbrauerei zu Salzburg GmbH
Kendlerstraße 1
5017 Salzburg
Österreich
www.stiegl.at