Schönbuch - Horst Hell Lagerbier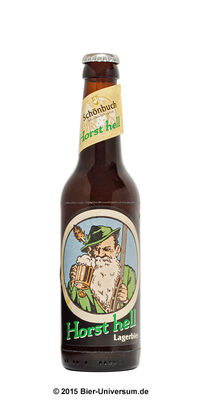 Ratings: 0.0 of 5.
Click on the pitchers to rate this beer.
Description according to label:
Schönbuch Helles Lagerbier - frischer, leichter Geschmack mit mildmalzigem Aroma und dezenter Hopfenblume. Gebraut nach dem Reinheitsgebot in Anlehnung an ein jahrhundertealtes Originalrezept mit bestem Aromahopfen und Braugerste aus lokalem Anbau.
---
Labels:
Schönbuch
---
Beertypes:
Lager
Alcohollevel:
4.8 %
Bottlevolume:
0.33 Liter
Bottletypes:
Mehrwegflasche (Glas)
Puritylaw:
Gebraut nach dem Deutschen Reinheitsgebot
---
Ingredients:
Wasser, Gerstenmalz, Hopfen
---
Brauerei
W. Dinkelaker Schönbuch Bräu GmbH & Co. KG
Postplatz 6
71032 Böblingen
Baden-Württemberg
Deutschland
www.braumanufaktur.com
---
Beverage markets: