Veldensteiner - California Common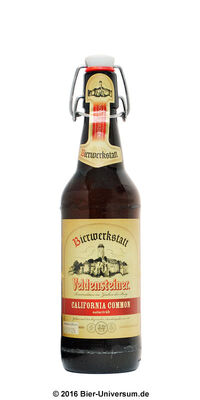 Ratings: 5.0 of 5. 1 vote(s).
Click on the pitchers to rate this beer.
Description according to label:
In der "Gold-Rush-Zeit" des späten 19. Jahrhunderts in Kalifornien weit verbreitet ist das California Common heute in den USA eine Rarität und in Europa fast unbekannt. Die Besonderheit an dem Bier ist die "warme Gärführung" bei wärmeren Temperaturen unter dem Einsatz einer besonderen Hefe. Die Kombination diverser Spezialmalze harmoniert perfekt mit den fruchtigen Aromen des mittels Kalthopfung eingesetzten amerikanischen Aromahopfens "Calypso" und endet in einem trockenen Finish.
---
Labels:
Veldensteiner
---
Beertypes:
Spezialbier
Alcohollevel:
5.8 %
Bottlevolume:
0.5 Liter
Bottletypes:
Bügelflasche
Puritylaw:
Gebraut nach dem bayerischen Reinheitsgebot
---
Ingredients:
Wasser, Gerstenmalz, Hopfen
---
Brauerei
Kaiser Bräu GmbH & Co. KG
Oberer Markt 1
91284 Neuhaus/Pegnitz
Bayern
Deutschland
Franken
www.kaiser-braeu.de