Wolf - Fränkische Landweisse
Die helle Weissbier-Spezialität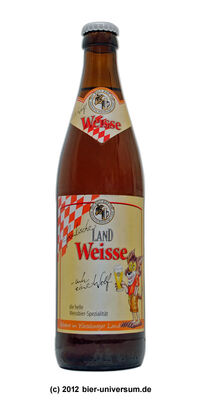 Ratings: 0.0 of 5.
Click on the pitchers to rate this beer.
Description according to label:
Mh, ein Wolf.

Gebraut im Würzburger Land inmitten der Natur. Nach dem bayerischen Reinheitsgebot von 1516. Original Flaschengärung mit feiner Hefe. Wolf Land Weisse gebraut nah dem Original-Rezept der Brauerei Wolf, Fuchsstadt, von der Kauzen-Bräu GmbH & Co. KG.
---
Labels:
Wolf
---
Beertypes:
Weizenbier, Hefeweizen
Alcohollevel:
5.1 %
Bottlevolume:
0.5 Liter
Bottletypes:
Mehrwegflasche (Glas)
Puritylaw:
Gebraut nach dem bayerischen Reinheitsgebot
---
Ingredients:
Brauwasser, Gerstenmalz, Weizenmalz, Hopfen, Hefe
---
Brauerei
Kauzen-Bräu GmbH & Co. KG
Uffenheimer Straße 17
97199 Ochsenfurt
Bayern
Deutschland
Unterfranken
www.kauzen.de