Zirndorfer - Kellerbier naturtrüb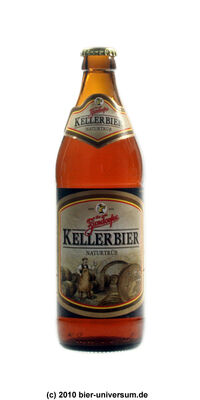 Ratings: 3.7 of 5. 12 vote(s).
Click on the pitchers to rate this beer.
Description according to label:
Zirndorfer Kellerbier ist eine echte Landbierspezialität. Eingebraut mit besten Rohstoffen aus der Region, wird dieses Bier unfiltriert abgefüllt. Leicht hefig und vollmundig im Geschmack - naturtrüb und unverfälscht süffig.
---
Labels:
Zirndorfer
---
Beertypes:
Kellerbier
Alcohollevel:
5.0 %
Bottlevolume:
0.5 Liter
Bottletypes:
Mehrwegflasche (Glas)
---
Ingredients:
Wasser, Gerstenmalz, Hopfen, Hopfenextrakt, Hefe
---
Brauerei
Brauerei Zirndorf GmbH
Rote Straße 8-10
90513 Zirndorf
Bayern
Deutschland
Franken
www.zirndorfer.de