Brauerei Christoph Jahn - Christoph's Premium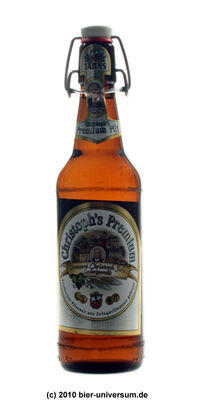 Ratings: 4.0 of 5. 1 vote(s).
Click on the pitchers to rate this beer.
Description according to label:
Feinherbes Pilsener aus Felsquellwasser gebraut. Dieses feinherbe Spitzenbier nach Pilsener Brauart ist zu Ehren von Christoph Jahn, dem Namensgeber unseres Brauhauses im Jahre 1871, benannt. Es wird ausschließlich aus Felsquellwasser des Naturparks Frankenwald und nach dem bayerischen Reinheitsgebot von 1516 gebraut.
---
Labels:
Brauerei Christoph Jahn
---
Beertypes:
Pilsner
Alcohollevel:
4.9 %
Bottlevolume:
0.5 Liter
Bottletypes:
Flip-top bottle
---
Ingredients:
Water, barley malt, hops, extract from hops
---
Brewery
Brauerei Christoph Jahn Erben
Kronacher Straße 22
96337 Ludwigsstadt/Bayern
Bavaria
Germany
Frankonia